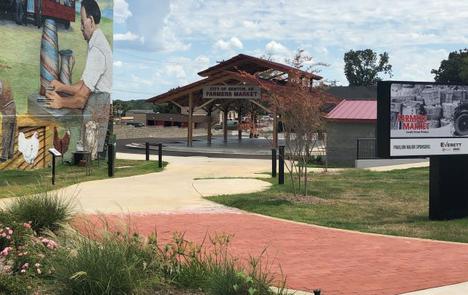 The mission of the Benton Farmers Market is to provide access to local, sustainable and healthy foods in order to serve the people of Central Arkansas.  While also working to enhance the quality of life in the Benton area by providing a place for community activity which fosters social gathering and interaction.  The market includes a multipurpose pavilion and restrooms that is used for Farmer Market Days, private events and is located at 125 Ashley Street in Downtown Benton!
The Benton Farmers Market is operational between the first Saturday in April and will run until the last Saturday in October from 8:00am-1:00pm. To become a vendor please review the Farmers Market Guidelines and contact Brandon Spurlock at brandon.spurlock@bentonar.org or 501-776-5970 or 501-860-9063. 
Did you know Benton Parks and Recreation provides the opportunity for our community to purchase an engrave brick in honor of loved ones? The brick will be placed along the front of the Farmers Market Pavilion. Commemorate a loved one, friend or business with a Benton Farmers Market Paver.  A one-time $100 contribution includes the 4"x8" brick and installation.

For more information or to become a vendor please contact Brandon Spurlock at brandon.spurlock@bentonar.org
2022 Market Fees
Booth fees must be paid in full before the start of each season for which you wish to enroll.  Fees are not be paid until accepted into the market.
| | | |
| --- | --- | --- |
| Season 1 | April 2 - July 2 | $25 |
| Season 2 | July 9 - September 3 | $25 |
| Season 3 | September 10 - October 29 | $25 |
| Full Season | April 2 - October 29 | $65 |
| A la Carte | Any single market  | $10/each |
| A la Carte Package | Nine or more single markets | $8/each |