Parks & Recreation
River Center Membership Drive
The first 1,000 River Center members will receive a Lifetime Rate Lock to enjoy the many amenities of the facility. Lifetime Rate Lock means your annual/monthly rate will never increase as long as you keep your account current. Lifetime Rate Lock Memberships apply to annual or automatic monthly renewal in good standing for a one-year period.
Contact Parks & Recreation staff at 501-776-5970 to find out how you can join!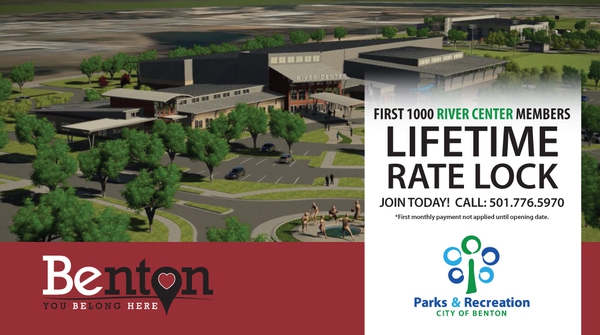 Mission Statement
It is the mission of the Benton Parks and Recreation Department to enhance the quality of life in our community.  We will strive to provide and maintain quality parks, green spaces, as well as offer enriching recreation activities to the citizens in our community. These services will enhance residents' health and well-being and promote economic vitality for long-term community sustainability.  We will accomplish this through creative leadership, environmentally sustainable practices, and the responsible use of available resources.
You can now reserve facilities, and enroll in activities and programs ONLINE!!!! Check it out CLICK HERE
Benton Parks and Recreation offers a variety of sponsorship opportunities.  For more information, please call John Eckart, Director of Parks and Recreation, at 776-5970 or by email at jeckart@bentonar.org
Residents encouraged to provide input for city Bicycle & Pedestrian Master Plan
In the fall of 2015, the city council approved the creation of a Bicycle & Pedestrian Master Plan for Benton. Part of the process is gathering as much information as possible from stakeholders, especially residents.
The planning process began with a Kickoff Meeting in December 2015, which was the first of four project Steering Committee meetings. Aside from Steering Committee input, the planning process included several other important methods of public outreach and involvement. The project website hosted here on the Parks & Recreation home page, public comment form, stakeholder meetings, social media, and public events were all used to gather input for the plan and to ask for feedback on the draft plan.
The draft plan can be accessed by clicking on the photo.
The review period will continue through the end of July. Please contact John Eckart ( jeckart@bentonar.org ) with any comments or leave any comments you may have by clicking the link below and completing the online survey.
An online survey has been created. Click on the following link below to participate. https://www.surveymonkey.com/r/BentonBikePedPlan
According to Parks & Recreation Director John Eckart, with the growth of the department's various venues within the city, connectivity is vital. "Having a bicycle and pedestrian master plan in place for the City is vital to the continued development of the City of Benton." Says Eckart. "Not only will it provide a guide for the continued development of the City's Infrastructure, but it will drastically improve access to recreation opportunities throughout the City."
Economic Development Director Brad Jordan sees additional benefits of a well-designed master plan. "This bicycle/pedestrian master plan will be an essential component to further increase our economic standing in Arkansas." notes Jordan. "The master plan will also allow Benton to become a more bikable, walkable, and pedestrian-friendly place to live. Our renewed focus on quality of life will not only help attract new business and industry to Benton, but will also attract new families to help our home grow stronger."
Additional information regarding bicycle/pedestrian master plans in Arkansas and the benefits to residents they present is available by clicking on the following links:
Presentations and Reports
Benefits of Walking & Biking